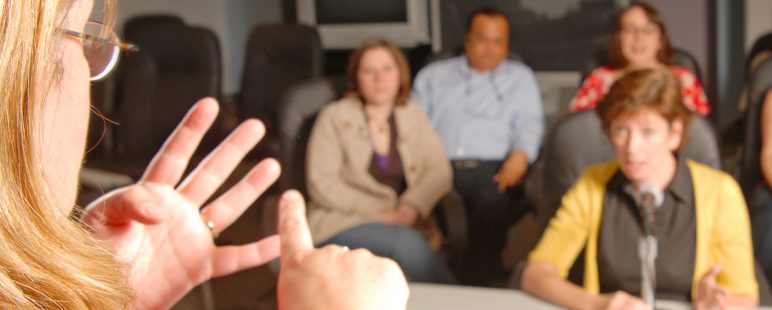 Do you ever wonder that how annoying it is for a Tone-deaf being to try connecting with a hearing individual? Particularly when the person is alien to the language of the sign! Do you wonder that how can you abolish those misinterpretations that arise when deafened and hearing people interact? Yes! The Sign Language services have the solution! The inherent language of nearly 2 million Deafened and hard of hearing individuals in America, American Sign Language (ASL) makes it easy for you to converse with the deaf. Do you know that this language with its own linguistic rules is the second most commonly used non-English language in the U.S.A.? No? Well, now you know that! In fact, it is just about the first language for tone-deaf Americans, and the fourth most conversed language in the entire nation, believe it or not!
What is Sign Language all about?
Have you ever had the experience of interacting with persons having hearing and speaking incapacities? Can you imagine somebody in the deafened community signing while not a single person can interpret what he is saying? He would find himself without help and without anyone desiring to talk with him. Right? Wouldn't it be great if the hearing community would take note of what is being said? So, how would you achieve this? Yes, with the sign language interpreter services!
By using physical communication, hand actions, lip patterns and facial expressions, this exceptional language helps them express thoughts. Amazing!! Isn't it? After all, they form a foremost part of the society and if you cannot connect with them, you are being unfair to them. So now, what do you think is the greatest place to nurture this consideration between two groups of people that are poles apart? Languages Unlimited is the answer! What else?
Languages Unlimited – Helping deaf to communicate and socialize!
Yes! We, at Languages Unlimited, are extremely passionate and devoted to our job of offering proficient ASL and CART services in Los Angeles School District and all over the United States. A lot of people differentiate disabled people to such an extent that these people do not even relish the elementary human rights. This discrimination leads to an emotional problem and they lose trust on their aptitudes and endowments in the world. We understand this! Therefore, we inspire the tone-deaf people to communicate and mingle while turning them into a part of the society.
So, what makes us the best? Take a look:
Our sign language interpreters completely understand the matter at hand and are able to exactly translate the info to the addressee.
Each of these interpreters has undergone years of training for their interpreting jobs. Some trustworthy interpreter training programs, in fact, certify them. These certifications assess the competence and talents of the linguist. The following qualifications are amongst the sign language accreditations that our translators meet:
The Registry of Interpreters for the Deaf (RID) and
National Association of the Deaf (NAD)
Our translators remain culturally delicate to our audience by being conscious of the values, language, and integrities of the client. These expert interpreters comprehend cultural nuances and thus lessen the likelihoods of context mishaps.
Our proficient linguists attend interpreting workshops on a regular basis to maintain their accreditation. Furthermore, you'll be amazed to know that quite a few interpreters have endured years of training for their interpreting professions.
Let us break down the all the linguistic walls!
Languages Unlimited is simply the best when it comes to a standard repute, standing, and authorizations. Our company not just helps the world to look positively at an incapacitated person but also makes sure that the person receives the self-reliance to move ahead in the life. Our organization provides ASL translators who hold brilliant educational certificates and an excess of experience in the industry. Moreover our experience, by and large, speaks of our amenability and competence of rendering decent customer services. Finding a qualified sign language interpreter could never be cooler!