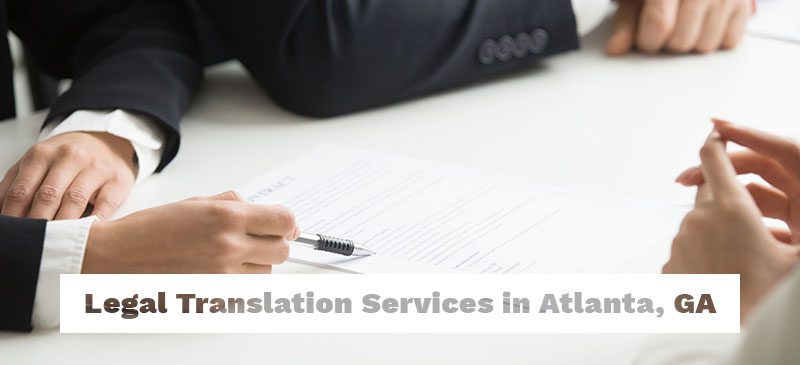 Atlanta Legal Translation Services
In an interconnected world driven by technology, businesses, individuals, or even governments depend on quick and accurate dissemination of information to carry out vital processes. These can take any form from business contracts, immigration documents to filing depositions in courts.
But there is a catch – people speak different languages, and whereas the smooth and accurate flow of information is indispensable, this cannot take place in the absence of expert services for translating both documents and speech.
Take an example of a company from Japan having clients in the USA. Most Japanese don't speak English, but they do business with companies from English-speaking countries. It is only logical that such a company would require skillful Japanese English contract translation to enable it to launch successful business engagements outside Japan.
In the same way, a student from Korea wishing to immigrate to the U.S. to study must fulfill the USCIS application requirements by presenting a notarized Korean English certified translation so that the original documents can be admissible
ACCURATE, NOTARIZED, AND QUICK LEGAL TRANSLATION
Legal procedures relating to agreements and business contracts can sometimes be complicated and protracted. In instances where the successful outcome depends on how fast processes are executed, speed and accuracy matter a lot. So if you are an individual who needs your immigration documents done fast, or if you are an attorney and you need to place depositions in court as quickly as possible, you can have peace of mind if you know that professionals are in charge of your project.
It is needless to stress that translations of legal documents must leave no chances for errors, otherwise whatever purpose they are meant to serve might be nullified if the translations are considered void. A licensed language company will ensure your papers are precisely translated, treated with the highest confidentiality, and quickly delivered.
CONFIDENCE AND PEACE OF MIND IF YOU KNOW EVERYTHING IS CORRECTLY DONE
When you are dealing with translators who excel more than the others, you can have peace of mind and confidence knowing that your papers will be meticulously handled, and the level of service you get excellent. An added advantage is if the staff have several years of experience on top of being native speakers of the language into which the translation is done.
In an agency where part of the staff are individuals with a vast knowledge of various languages and the legal precedences of different countries, their fast-hand knowledge of legal terminologies will enable you to get first-rate results. Another assurance you get is the manual handling of your legal translations. Human handling eliminates any discrepancies that may arise if your translation is generated via AI processing. Initially, this might seem cheap and convenient, but in the long run, it can be costly or embarrassing.
WORK WITH EXPERT CONSULTANTS
How else can you be satisfied with the quality of services you get if not by working with expert consultants? In most cities in the USA like Atlanta in Georgia where the economy is diversified, and there are multitudes who speak different languages, there is a great demand for certified document translation. And language vendors who recognize that every customer has unique needs, take every measure to ensure that other services such as ASL interpreter in Atlanta are also provided
Apart from serving local residents of a city or state, a recognized translation company provide their services to the entire country and beyond. Service approaches are tailored to meet the specific needs of each and every project. To ensure this happens, as experts, we exclusively work through efficient and reliable channels like the internet, via video interpretation, or over the phone, but most preferably face to face. What we guarantee to give you satisfactory results is the high standards of customer care and attention to detail that individual clients get.
FRIENDLY, UNIQUE, AND AFFORDABLE SERVICES
What's more, you need a service that is friendly, unique, and affordable. During these hard covid-related times, every penny you save is worth a thousand more in the bank. The last thing you need to worry about is the cost of having your legal papers professionally translated. When your project is done, you will feel as though your life is opened up because the language barriers that might get in your way are eliminated.
Importantly, you will be walked through every step of the translating process whether you are adopting a child, seeking immigration, or purchasing a property. And as a victory send-off salute, you will be given an accuracy certificate officially stamped to add the touch of authenticity to your papers.