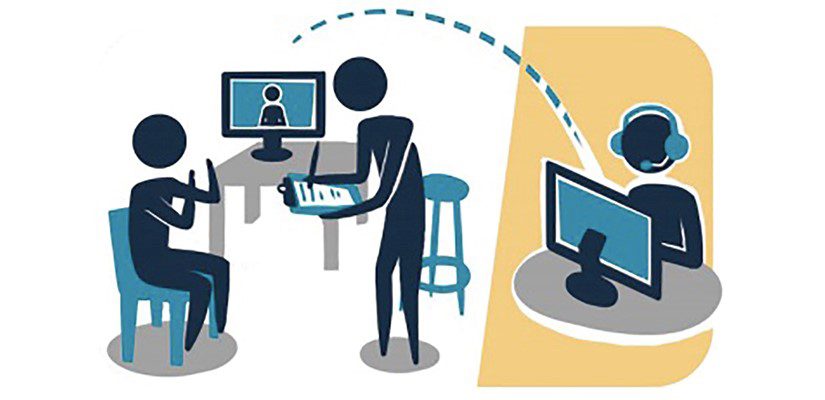 If you are currently exploring to opt for Video Remote Interpretation Services (VRI), it's possible that you have already shortlisted the services of an on-site or over-the-phone interpreter, but wait!!
Did you check languages unlimited for the best video remote interpretation services? In this blog, we will discuss what VRI is, the reasons behind its use, and why do we need VRI services in 2023.
Video Remote Interpretation (VRI) is a form of interpretation service that uses video conferencing technology to provide real-time interpreting services remotely. VRI allows individuals who speak different languages to communicate with each other by using trained interpreters who provide interpretation services via video call.
VRI Services Today
Video Remote Interpretation (VRI) has significantly improved compared to the past years, where high set-up costs and technological requirements were a barrier. Nowadays, some language providers offer VRI in broadcast quality, with faster connection speeds, and availability on various devices, around the clock throughout the year. Due to the increased competition, VRI is more affordable than ever before, making it accessible to organizations of all sizes and budgets.
Cost of Video Remote Interpretation Nowadays
The costs of Video Remote Interpretation services can vary depending on whether an interpreter is needed immediately or scheduled in advance. However, VRI services usually charge on a per-minute basis regardless of the situation. Organizations that require frequent use of VRI may be eligible for discounts by partnering with a Language Service provider and making bulk purchases.
Also, the cost of VRI services may vary depending on several factors, such as the language pair, the duration of the interpreting session, the urgency of the request, and the location of the interpreting service provider. However, on average, VRI services typically range from $1.50 to $3.50 per minute. Some VRI service providers may offer discounts for bulk purchases or long-term contracts. It's always best to check with individual VRI service providers for their pricing information.
Why Do We Need VRI?!
If you encounter any of the following situations, VRI services can be an excellent solution:
When interpreters are scarce.
When interpretation is needed in a language that is not commonly spoken.
When Sign Language interpretation is necessary.
When multiple parties are participating in a phone call.
When maintaining social distancing is important.
Industries Where VRI Services are Commonly Used
The following industries and settings can benefit from VRI:-
Medical and Healthcare: VRI is essential in communicating with non-English speaking patients, especially in emergency situations and Telemedicine sessions. VRI is also useful for medical professionals in the field who require immediate language support. Get your medical video remote interpretation services at languages unlimited.
Legal and Court Settings: Video Remote Interpretation is highly advantageous in conducting remote judicial proceedings and court operations, where interpreters can provide real-time interpretation services. Languages unlimited are one stop shop for your legal video remote interpretation services.
Education: Video Remote Interpretation is convenient for educators and administrators in communicating with English Learners students with limited English proficiency, especially in parent-teacher conferences and distance learning. Get your hands on languages unlimited for HD video remote interpretation services.
Travel and Hospitality: VRI can improve the customer experience in the travel and hospitality industry by providing customer support in multiple languages, resulting in increased bookings and customer satisfactions. Languages unlimited a professional choice for your business while you travel.
Business: Scheduling an interpreter with experience in a specific business discipline or industry can help bridge the language barrier during negotiations, meetings, and events, such as webinars or shareholder meetings.
How Languages Unlimited Can Assist You!?
Languages Unlimited offers VRI services to facilitate communication between you, your clients, and your stakeholders. Our VRI services provide access to professional, certified interpreters on multiple devices, available 24/7/365. Contact us today to see if our VRI service is the right solution for your language needs.