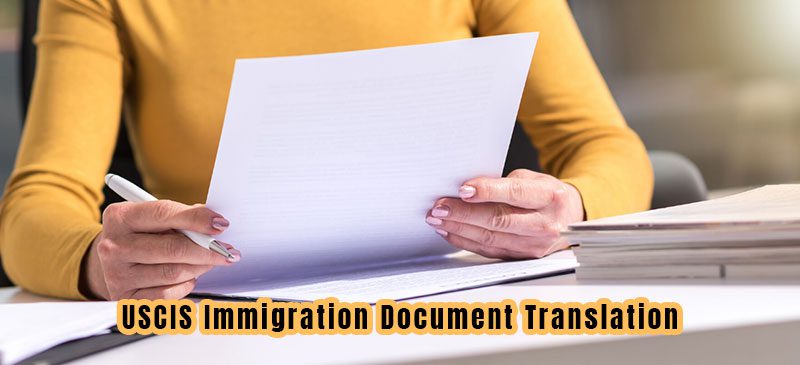 USCIS Immigration Document Translation Service
The fate of all foreigners wishing to immigrate to the USA often depends on how accurately their various documents are translated when they are applying for entry Visas. For instance, a person from Iran intending to live in the U.S. would need to get a perfect Arabic English translation of any official documents needed for the application process.
When struggling through the application procedures, nearly all non-English speakers find it quite distressing to make up a complete sense of what is exactly required of them when they are filling up immigration forms. Sometimes understanding all the sections that must be completed takes a lot of reckoning. For individuals, whose English language proficiency levels are limited, it is never easy.
PROFESSIONALLY TRANSLATED DOCUMENTS ARE MANDATORY FOR USCIS APPLICATION
But that is not the end, after going through this initial requirement, an applicant must still be prepared to get an interpreter for USCIS interview procedures so that they can adequately supply all the information they are asked by the immigration officials. These two requirements are crucial because they determine the ultimate outcome the applicant gets. For that matter, if anyone hopes to have their translated documents accepted, they must hire professional help from a trusted language agency.
6 THINGS YOU MUST DO SO THAT YOUR DOCUMENTS ARE NOT REJECTED
#1 Get Certified Translation: The first thing you need to do is obvious – use only reputable, licensed, and certified language companies. Do not enlist the support of your relatives or non-professionals claiming to be able to help you. Translation services are not so expensive, but even if they were, parting with money to secure your future is nothing compared to losing a once-in-a-lifetime chance to live your dream.
#2 Have a Valid Signature on Your Document: USCIS has a strict rule requiring all documents that have been translated to be certified, not by a representative of a company or a freelance agent but by the real person doing the translation. This important change came into force as of February 2020. Only the signature of a translator renders a document valid.
#3 Ensure All the Information is Accurate: USCIS employs expert reviewers who scrutinize every document for authenticity. So apart from making sure your document contains the right identifying details, also make sure there are no discrepancies such as a name misspelled, a wrong location, or date. Such minor errors can hold back your application for weeks, months, or even years in extreme cases. Just do not go to any other translator you chance by. If you are from a Spanish speaking country, try and hook up with a skilled Spanish document translator as a safeguard against the rejection of your documents.
#4 Clearly State Type or Name of Document: Specifying or attaching the wrong document for any section of the application form can cause major drawbacks. Take care to properly identify every document by correctly stating its name and type, for instance, birth certificate or school certificate, etc.
#5: Get Any Other Document to Be Notarized at Once: A separate affidavit is needed every time a document is translated into a foreign language. It is sensible to have all your translations and notarization completed at once as this will help you save time. The company should also provide you with an accuracy certificate confirming the correctness of the format in meeting standards by USCIS.
#6: Proofread & Ensure Confidentiality: The company you contract will handle your most confidential and sensitive information. Make efforts to prevent your documents from being mishandled in any way by determining the company's privacy policy. Find out,
Their process or system of proofreading to check for errors.
Whether the documents are subjected to cross or double-checking by different translators.
Whether the documents are internally reviewed.
If your answer to these three questions is yes, you can be assured your documents will earn USCIS approval.
Importantly, familiarity with the translation type USCIS accepts is almost a guarantee your documents will be accepted without much fuss.