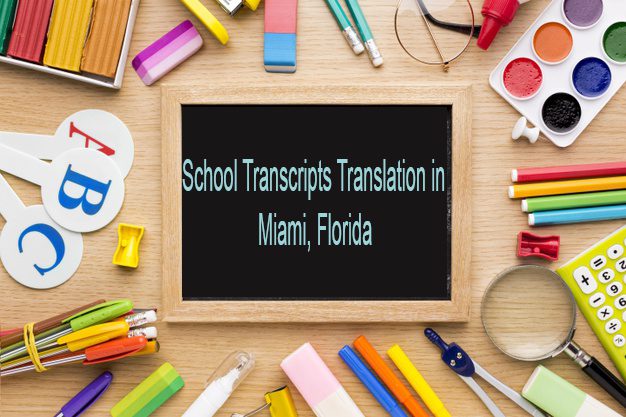 There are many reasons that compel people, but specifically, students looking to study abroad to seek High school transcript translation services.  Chief among them is the strict requirement concerning the conversion of academic credentials that many countries impose on foreigners. Most government institutions have well-established qualification standards that they expect prospective applicants to meet.
Like it happens elsewhere with a cosmopolitan outlook, Miami enjoys a consistently high demand for translation services due to its diverse population and rapidly expanding economy. The influx of thousands of immigrants, the constant presence of international students, and vibrant hospitality businesses make efficient and accurate written translations integral to all facets of life in Miami.
Transfer of Academic Merits into A Different Cultural Context
Local and international students living in the USA or outside usually require competent translation of their study records into different languages. And since the work of evaluating academic achievements for accurate transfer from one cultural context to another calls for extreme keenness, it is imperative that those in need of translation of high school diploma in Miami, Florida go only for professional document translators.
But that is not all. Other factors necessitating college transcript translation are such as:
The requirement for a notarized diploma as a precondition for getting a student visa.
Compliance with the standard policy the US immigration department uses in order to ensure your study records are procedurally certified by a reputable translation service.
Having your qualifications converted into the official or formal language used in the country where you intend to apply for studies.
Requests for a short term, long term, or special worker visa demand the provision of certificates, high school/college diplomas, transcripts, and any other academic awards to be officially notarized in the destination country.
Under special circumstances, overseas students studying in the USA may qualify for programs of financial reimbursement in their native countries. To be eligible for this kind of financial aid, a student must produce professionally translated documents verifying their enrollment.
Although there are myriad other needs for translating documents, the reasons above rank highest in the list of priorities for foreign students wanting to study in the USA. However, to avoid any kind of disqualification due to poor and inaccurate rendering of school results, you need to, first, identify a trusted and recognized language agency.
What are the 7 Essential Factors You Must Consider Before Hiring a Translation Vendor?
#1: Licensing and Registration: The original academic credentials in your possession are, for all intent and purposes, your future. Never entrust them with any agency that claims to offer language services. If it is in the US, check and confirm whether the company is licensed to operate. This is the only proof of professional authenticity.
#2: Fast Professional Service
You do not wish to wait for an eternity to get your academic records translated and certified lest you miss the all-important chance to join the college of your choice. When you are hiring a service, make sure the team provides certified translators who can professionally work on your documents quickly and accurately.
The best translation companies have a fast-rate process for quality review that guarantees you get the most effective translation.
#3 Human Quality Translation
When engaging a language agency, be alert for any signs of obscurity. Try to speak directly to an in-house staff so that you can be sure your work is not going to be outsourced to a machine or an anonymous freelancer on the outside of beyond! The eye of a skilled translator will precisely distinguish the uniqueness of a report card, diploma, certificates, transcripts, medical records, etc.
#4: Provision of Ideal Pickup Locations for Same Day Translation
If someone can answer your specific questions efficiently, feel confident your documents will be in safe hands. But on top of that, you need to find out whether there are provisions for quick pick up locations where you can have your completed jobs dropped. If you like your translated documents can be mailed directly to an institution or an academic merit equivalency agency.
#5: Secure Handling of Transcripts & Diplomas
Academic transcripts and diplomas are highly sensitive documents that must be handled with uttermost care. Companies that will post your credentials online to be worked upon by a cheap freelancer are many and should be avoided like the plague. They are likely to use inexperienced staff working with no regard for your privacy, usually on insecure computers.
Instead, look for a translation service with dedicated in-house staff able to work on secure channels that leave no room for confidentiality security breaches. This comes as a result of a lot of experience evaluating coursework to find the right fit for every translation.
#6: Certified & Fast Equivalency Evaluation
Proper merit evaluation is central to showing your aptitude as a student and suitability for admission to a college in the United States. Reach out for a company that provides fast equivalency evaluation because this is what is used for determining your credential's equivalence with the system of grading academic achievements in the U.S.
#7 Lastly Consider the Cost
Students are often pressed hard for money, and so you will want to get the most affordable cost for having your academic records translated. Choose an agency offering standard industry pricing, fast delivery, and accurate translation.
The decision to have your school records translated is the first step towards fulfilling your dream to study in a foreign country.