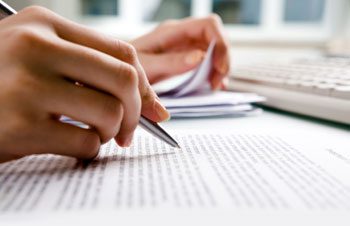 Languages Unlimited provides reliable and cost-effective foreign language translation services for documents, websites, and more for over 200 languages. If you are a business owner who has dealings overseas, you would be well aware of the fact that accurate translation has become imperative for global success in today's cut-throat competition.
Foreign Document Translation Services
Accurate document translation entails translation of documents from one language to another in such a way that it retains the original message and the essence of the source material. If there is any form of distortion in the finished product, your marketing or business endeavors will fail to get the desired results. With the global marketplace shrinking and becoming more competitive, a document translation service can ensure that your message is reaching to the right audiences in an accurate manner.
Organizations that conduct business overseas not only have a need for translation to reach out to their customers but also to interact with their employees. In addition, there are areas which do not directly relate to their customers but still have a genuine necessity for services from a language translation agency. These can include, but necessary limited to, legal arena such as laws and regulations governing the product/business a company might be interested in along with product manuals, business communications and many more.
Wide Scope of Our Foreign Language Translation Services
Whether your company operates in the financial field, markets medical products, or any other arena, Languages Unlimited can help you overcome the language barrier and enable you to connect with your target audience. Even if you do not have physical presence in a foreign market and do business online, there is still a legitimate need for foreign document translation services, in order to be able to effectively convey your marketing messages to be conveyed accurately and achieve your business goals. This can be in the form of getting website translation or creating a different website only to cater to a particular market in the local language.
In addition to our document translation service, Languages Unlimited offers a wide range of services that help businesses run smooth operations. These include foreign language interpretation which can be conducted on-site as over-the-phone. Now it is very easy for you to get three-way business calls with clients, suppliers, distributors who do not speak English with the help of our expert interpreters.
Your Go-To Language Translation Agency
Languages Unlimited is your one-stop-shop for all things related to document translation, sign language interpretation, and foreign language interpretation. We are a premier translation company with a vast pool of over 10,000 linguists who are subject matter specialists for a wide range of fields such as medicine, law, finance, insurance, marketing, and countless more.
All of our linguists and interpreters have bachelor degrees in their respective language or in translation with a vast number of them having Master's or Doctoral degrees. Our emphasis is always on accuracy, quality, and a fast turn-around time. If you want to get ahead of your competitors, foreign document translation services by Languages Unlimited can help you achieve your goal.
For more information about our services, visit our home page or call 1-800-864-0372 now!