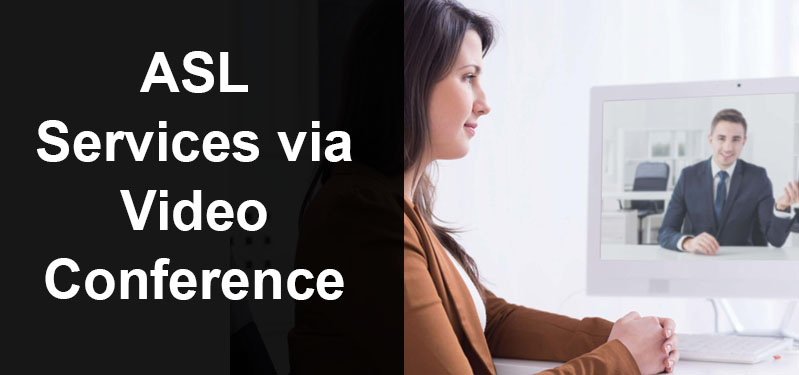 More than any other time ever, schools, businesses and virtually, (pun fully intended) every imaginable form of social, political, and economic activity relies on video conferencing to get things done. Of crucial importance, perhaps, is the need many organizations, schools, but most importantly, health institutions now have for remote services for the deaf.
The deadly prevalence of the Corona virus everywhere in the world has caused huge disruptions in service delivery in every industry. With its disruptive containment strategies such as stay-at-home-work-from home measures, social distancing and self-isolation, it means that many vendors of language translation services may find it impossible to take care of the in-house services.
Bridging the Gap of Translation Demands
But despite many challenges posed by the pandemic, the ubiquity of technological innovations allows many translation agencies to easily and cheaply deploy in-person Deaf Interpreter on-demand personnel to provide the essential interpretation needs for the hard of hearing.
Allowing for the usual difficulties of getting highly competent interpreters for sign language during normal times, the Covid 19 situation has created a whole new cocktail of problems. Where the services of ASL translation experts were occasionally needed during meetings or conferences, now there is a vacuum.
Fortunately, in situations requiring urgent attention like in care homes and in hospitals, language service providers can now use technologies such as Sign Language via Zoom to ensure that the gap between the vital demand and the provision of services is bridged.
Working Remotely to Assist People in Remote Locations
By adapting quickly to the changing circumstances, the purveyors of language translations have developed platforms for catering to the needs of people in dire need but who live in remote locations.
Sign language interpreters who work remotely can supply and accommodate all sorts of conversations ranging from the simple and brief to the complex and long interactions. The dialogue interfaces in use are so friendly because they can quickly be initiated even by people who are not tech-savvy.
The Benefits of Remote Video Conferencing
Video conferencing has a lot of inherent advantages for people who depend on sign language to communicate.
First, it out rules the requirement for an on-site translator in cases where audio alone cannot suffice.
Secondly, remotely interpreting via video can help to save countless lives besides relaying important information that is useful during the corona crisis.
Thirdly, video conferencing is designed to meet all unique and specific needs consistently and whenever the services is need regardless of the time zone or geographical location.
Fourthly, the inability to hear is in itself a tragic predicament. But it particularly becomes a horrifying experience now that Corona 19 is playing havoc with everyone's life. Luckily, video conferencing remotely provides a practical convenience and simplicity with which the deaf can easily cope with the tricky Covid 19 situation.
Fifthly, by using a remote translator, those who may in other circumstance not be understood can now easily and clearly communicate. All one needs are a computer, internet connection, a webcam, and the software for
videoconferencing; and off they can rattle and prattle to their heart's fill.
And lastly, for this article but by no means for the entire suit of benefits, video conferencing enhances the quality of the dialogue by making it more of a personal and intimate experience.
When users of foreign languages quickly require an interpreter, but none is readily available in person, they can fortunately resort to conferencing by video. During a session of remote video interpretation, the interpreter simply listens to what is said and then signs the information conveyed to the video camera. Someone deaf can see the signs through their camera display. In turn, the deaf also sign their message which the interpreter sees and verbally relays to those listening.
It is that simply. Try it Now!